Here are some comments from friends and visitors that will give you a more personal picture of the quality of service we offer.
We would love to have you sign our guestbook too. If you have dived in Cozumel with us and want to tell others about your trip, make a suggestion, comment on our website, or just say hello, click here to send us your comments.
We love visitors, both electronic and in person.


---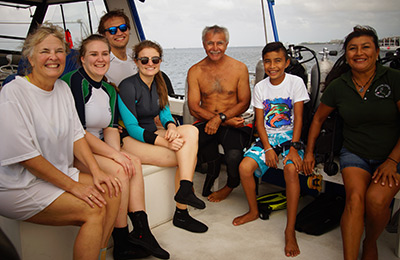 We just returned from a holiday family vacation to Cozumel where we had the opportunity to spend three wonderful days diving with Freddy. I've been diving since 1988. This was my 4th time diving with Freddy whom I've come to highly respect for both his diving acumen and professionalism. He runs a first class operation, is attentive to detail and strives to deliver the best possible experience for all divers regardless of their experience/skill level. Our three grown sons and girlfriends/fiancé accompanied my wife and I. This was our oldest son's 4th trip diving with Freddy. His fiancé, one of our other son's and his girlfriend were all newly certified before departing the states. My wife, who had not been diving for 15 years and had all but given up on the sport as we enter our 60's, had reluctantly agreed to take a refresher course before we went and had committed to giving it another try. I kiddingly teased Freddy ahead of our trip that my work was done (getting her to agree to give it another try) and I was putting her in his capable hands to reintroduce her to diving. No pressure! She previously had issues with nose bleeding, ear clearing and general insecurity with her skills. It was remarkable to watch her and the rest of our groups skills and confidence grow over the three day period. It truly would not have happened without the patient guidance of Freddy. He is very astute in "reading" people while still aboard his very comfortable and accommodating boat , observing how individuals handle themselves underwater and then tactfully making suggestions on ways to further one's skills while again topside. Always a good listener, he strives to work through individual concerns and questions while optimizing the experience. My stated goal to Freddy was to get everyone comfortable and competent day one while being introduced to diving conditions that included current. Day two was to be a continuation of the 1st day, further building skills and confidence with an objective of diving the Santa Rosa Wall day 3. Mission accomplished! Thank you Freddy! Not only did you deliver on getting Lenore comfortable diving, she is now a devotee highly touting the experience she had under your tutelage. The rest of the family is talking about buying equipment and/or future dive plans. The best possible outcome has come to fruition…thanks for making it happen!
Paul Dryke
Chanhassen, Mn USA - Monday, January 04, 2016 at 06:03:57 (PST)
---

I just returned home from my first dive. Freddy is a terrific Instructor. He is very knowledgeable and patient. As someone who had never dove before, Freddy was able to calm my nerves and get me comfortable under water. Thank you Freddy for a spectacular day.
David Bruce
Rome, NY USA - Monday, October 19, 2015 at 07:31:32 (PDT)
---

My family just got back from our first trip to Cozumel. I have been a certified diver since 1975 and have logged hundreds of dives, but I have two children (Daughter-15yrs and Son-17yrs) who have only been certified for about 2 years. I am still a nervous father in the water when diving with my kids, needing to constantly keep an eye on both of them for my own peace of mind. Consequently I search out dive outfits who offer small group diving so it is easier for me to keep an eye on them when in the water. Freddy absolutely offered us the perfect dives. His years of experience and family style dives fit my needs perfectly. My son and I tend to go through air quicker than my daughter, and until our dives with Freddy and his nephew Carlos as our dive master, I have always made her come up with us, even if the dive master and others still had more dive time. With Freddy I absolutely had no anxiety at all leaving her with Carlos to finish out her dive when my son and I came up. If we have the opportunity to return to Cozumel for some diving I will use Freddy (Mestizo Divers). If I can ever talk my wife into getting certified I would love to have her do her certification dives with Freddy. He runs a very safe, family friendly dive from his very comfortable, adequately sized, and well maintained boat.
Warren Dorsa
King Mills, Ohio USA - Thursday, February 19, 2015 at 05:19:15 (CST)
---

My wife and our family recently dived with Freddy. We are all very "new" divers and could not have found a better person than Freddy and his crew. When you are in the middle of the USA trying to figure out which dive outfitter to use on a trip to Cozumel it is a daunting task to say the least. In our opinion Freddy and his business are top notch all the way. We are so lucky to have found him on our first trip. We will be back.
David Bohm and Family
Kearney, Neb. USA - Saturday, January 17, 2015 at 19:04:16 (CST)
---

My husband, son and I spend a week in Cozumel this July. It was mine and my son's 1st dive trip after getting our open water certification. My husband has been diving for over 20 years and is a Dive Master. He found Freddie for us and after reading the other testimonials decided that he was "our guy". He as not wrong at all. Freddie is AWESOME! He took the time to talk to us "new" divers to make us feel comfortable. We did 3 two tank dives that were incredible. ON our 1st dive he was able to gauge our ability and each subsequent dive was better than the one before. I will not dive with anyone else when I visit Cozumel. Freddie is just that good. Julio is a great help also in assisting us with our gear.Thanks again we had a blast.Vicki, Dan and Alex Gensch
Victoria Gensch
Wyoming, mi usa - Friday, August 02, 2013 at 08:26:12 (CDT)
---

A Unique Diving Opportunity With a Modern-Day Rennaisance Man!" Reviewed June 3, 2012I first met Freddy Contreras 22 years ago when I was a newly certified Open Water Diver eager to learn more. In the years since, I have learned so much at the "feet of the master" through advanced certifications but most often by simply just listening. After 10s of thousands of dives, Freddy continues to have the same passion to share his vast knowledge and experience with any and all who are willing to listen. Freddy is knowledgeable, experienced, widely read and last, but not least always concerned for your safety. Freddy now proudly owns and operates Mestizo Divers; a par-excellence dive and fishing service/charter operation on Cozumel that is rivaled by many, but second to none. His service is personable, comfortable and intimate (usually 3 or 4 divers maximum). Mestizo is happy to show you the kind of diving that is not provided by the larger, less personable providers and includes fresh towels daily, fresh fruit between dives, equipment rental and daily equipment care when desired. Freddy's seasoned knowledge of diving and the Cozumel area in general will leave you with a renewed appreciation for our water-world and the unique place in history that Cozumel occupies. Freddy and his assistant are prime examples of the kindness and friendly nature of the Cozumel culture. We have just returned from another 13 days on Cozumel and 18 dives apiece with Freddy. Can't wait to return. Spend your next diving trip with Freddy and Mestizo; you will not regret it! It is so much more than just diving!
Henry Jones
Louisville, kentucky usa - Friday, March 08, 2013 at 07:21:32 (CST)
---

We've just spent our third year diving with Mestizo Divers. Freddy Contreras has spoiled us for life. Wherever we dive we end up comparing the dive master with Freddy and they always fall short. He is by far the "best of the best." Read the other testimonials and you'll understand why. He has the greatest respect for the reef and does his best to instill that same respect in his guests. Better yet, dive a time or two with Mestizo Divers and you'll never have to search again for the best outfit on Cozumel. Thank you so much Freddy for taking us again to" The House of The Lord."
Lynn, Doug, Jennifer and Rick
Dec. 15, 2012
---

Mr. Contreras was our Divemaster for a week of diving Nov. 2012. Our group consisted of men 27-60 years old who had combined 95 years of Caribbean diving experience including a number of trips to Cozumel. We had tried the big outfits like Aqua Safari, Dive Paradise, etc., and were rarely disappointed, but we wanted to give the independent owner, operator a shot. I have never been a big fan of Walmart over the local store. What a pleasant surprise! Mr. Contreras, who has been a commercial diver, instructor, and guide was awesome. He and his captain Roberto were thorough, professional, funny, warm hosts. From the well equipped dive platform to the gourmet fruit tray (twice with his wife's homemade guacamole) served between dives everything was perfect. Mr. Contreas, who has virtually flawless English, avoids mind-numbing rote dive instructions but gives concise, site specific instructions addressing diver safety and enjoyment in equal parts. He is a very solid individual in whom you will have complete confidence in placid or turbulent conditions. He knows the reef system of Cozumel better than any Divemaster I've encountered in numerous trips there over the past 21 years. His outfit can accommodate beginners or experts and I can recommend Mestizo without reservation. If you like the cattle boats, lugging your own gear each day, and aloof, generic guides please go elsewhere, but if you prefer personalized service by a dive professional who will teach you something on each dive call Mr. Contreras--you will not be disappointed. Thanks Freddy!
David, Jonathan, Mike, Brian
Nov. 18, 2012
---

Freddy, My husband and I just wanted to send you our sincerest thank you for taking us diving in Cozumel last Friday. It was awesome!!! Diving Cozumel with you was definitely the highlight of our trip, especially for me. I learned so much from you in such and short time and feel so much more confident and relaxed about my diving, and for that, I will always be grateful to you. We are finished with cruises!! Our next vacation will be strictly diving Cozumel. We hope to be able to dive with you again soon and will highly recommend you to everyone! Thank you again and best wishes! Laurie and Tim Hunter
Laurie & Tim Hunter
Cedar Park, Tx USA - Saturday, July 28, 2012 at 10:29:58 (PDT)
---

Whether you are an experienced diver or it's your first time in the water look no further if you are planning to dive in Cozumel because Mestizo Divers is the premier diving experience. First of all, the dive master and owner Freddy Contreras provides the perfect combination of safety and adventure from the moment you step on the boat. He overwhelms you with his knowledge of the reefs, including how they got their names, all while you scarf down the delicious local fruit he provides during surface intervals. We just finished up our second year of diving with Mestizo and I couldn't have been more pleased. Save yourself the miserable cattle boats and make your dive in Cozumel with Freddy and Mestizo Divers. Si tienes suerte permitirá tener algunos de sus preciosos Chokis!
Jeff & Maggie Whitford
Richmond, KY USA - Monday, February 27, 2012 at 15:04:02 (PST)
---

I had a great first-time dive experience. Thanks for all your patient and expert advice. The whole trip was fantastic. The boat was great, the sites were great, the support and friendship from you and Roberto were great. I have mailed in my Open Water Certification packet and anxiously await my official certification card! I hope to come to Cozumel again and again dive with you!
Dan Blum
Apex, N C USA - Friday, February 24, 2012 at 03:45:35 (PST)
---

We spent our Christmas Vacation in Cozumel 2011 as well as getting our advanced with Freddy. You have to book well in advanced because space fills up fast when you dive with Freddy. We spent a couple of hours going to several dive operators on the island to find out who is the best instructors and Freddy's name kept coming up. When other operators/instructors say the same thing you know you have the best Instructor possible. Freddys endless patience and knowledge is second to none. Your best is Freddy,s starting point, Freddy will make you a better and safer diver. His boat is always clean and crew very pleasant.
Richard Bedi & Jancy King
Toronto, Ont. Canada - Monday, February 20, 2012 at 16:59:23 (PST)
---

I have been diving in Cozumel for over 20 years. My family and I dove with Freddy for a week over New Years 2012. He is by far the most knowledgeable and safe dive master I have had the pleasure to dive with in Mexico. I have daughters who are new divers and Freddy did a wonderful job teaching them safety but also making them relax and enjoy the dives. Freddy is the best.
Bill Conroy
Hinsdale , Illinois USA - Wednesday, February 15, 2012 at 03:52:20 (PST)
---

This was my first time diving in the ocean – I had earned my open water certification in Denver, CO and come to Cozumel to see the real thing. My dive buddy and I selected Mestizo Divers for our three dive days because of the small group experience – he takes no more than six divers at a time. We realized quickly that we had lucked into one of the best situations in Cozumel. The group consisted of only four divers this time -- me being brand new at the sport, plus three very experienced divers. Dive master Freddie Contreras had plenty to teach all of us without making me feel like the newbie I was. He speaks excellent English, is a pleasure to be around, and knows the waters and reefs there like he is part of them, which in a very real sense, he is. I enjoyed the way he treated us – not as tourist commodities, but as friends sharing in something he is very passionate about. My buddy and I did one night dive with another group and were exposed to what I saw as the standard get-em-in, get-em-out, take-their-money kind of dive, so I appreciated the Mestizo experience all the more the next day. He also takes great pride in his boat and keeps it in top condition. It has extensive soundproofing in the engine compartment, so even at full throttle it's easy to hold a conversation inside or on-deck – very important during teaching. During the breaks between dives he offered us fresh fruits, both familiar and exotic, that added even more to our discovery experience. Freddie possesses an endless supply of great stories of things he's seen underwater that most people have never imagined, but is happy to hear yours as well. I have already recommended Mestizo Divers to two of my scuba friends and will continue to do so whenever I get a chance. Thank you Freddie for a GREAT first dive trip!
Michael Dees
Aurora, Co USA - Sunday, November 27, 2011 at 05:19:57 (PST)
---

"Try Scuba" To Instructor, a Diver's Journey By: Michael Johnson From the moment my knees first touched the sandy bottom of the ocean floor in Cozumel, Mexico, I knew that scuba diving was for me. I knew I had to do whatever it took for me to spend more time underwater. I deeply de-sired to float weightlessly on the gentle currents, like an eagle on the thermoclines of a summer day. My diving experience began with a PADI "Try Scuba Experience" then fast forward three and a half years to today. I am now certified to teach others so they too can enjoy the incredible experience of Scuba Diving. On Sunday, June 19, 2011, I passed the PADI Instructors Examination (IE) which entitled me to independently teach others to scuba dive. The journey was filled with incredibly fun experiences; it has taken me to places I oth-erwise would never have visited. I have been fortunate to have met many wonderful people who have become lifelong friends. Dive—Dive—Dive was my calling every day at training. Boat dive off the coast of Palm Beach, Florida and you will quickly learn to love hearing those words shouted from the captain's chair high above the boat deck. The words mean that it's time to GET IN THE WATER, drop effortlessly toward the ocean floor, and drift weightlessly for the next 45 minutes scanning the bottom for sting ray, eels, lobster, and if you're lucky catch a glimpse of a passing shark. Becoming a scuba instructor means that you have to dive, dive, dive. You must have logged at least 100 dives in a lake, quarry, or the ocean to accept the upgraded credentials. My first open water dive was logged on January 29, 2009 while in Cozumel, Mexico with Mesito Divers and my instructor was Freddie Contreras. Freddie is a true gentleman and his teaching style sticks with me to this day. He is kind, patient, and makes learning FUN. Any time someone tells me that they are going to Cozumel to learn to dive or just to dive for fun, I tell them to contact Freddie. I plan to model much of how I teach from Freddie's style because my definition of a good instructor is someone who wants to see their students succeed, and I hope that lasts a lifetime for my recent efforts.
Michael Johnson
St. Charles, Il USA - Monday, August 15, 2011 at 05:21:43 (PDT)
---

I booked an Open Water Dive course with Freddy (Mestizo Divers) after reading some good reviews about him and Mestizo online. I was not disappointed!! After an initial inquiry email he got back to me very quickly, and continued to stay in contact via email answering all my questions. I put a deposit down with PayPal (very easy) for the course and once I arrived in Cozumel, Freddy met me at my hotel to brief me on my course and give me my materials. He was very friendly, professional, and welcoming. I ended up getting Freddy all to myself for the course as he had another group postpone but I'm sure I would have received personalized attention regardless. His boat is very clean, comfortable and quick, and Julio his driver/assistant is also very friendly and professional. They both took very good care of me with fresh fruit, water, and towels. Freddy was a very patient and encouraging teacher, while also making sure I was doing things correctly and safely. He helped me to overcome any challenges, and explained all questions that I had carefully. His guidance helped me successfully complete my Open Water within 3 days and he then took me for a great fun dive! For beginner's he is an excellent teacher and for experienced divers he knows the diving in Cozumel very very well and I'm sure can provide a unique diving experience. I would not hesitate to recommend Freddy and Mestizo to anyone looking for a personalized, knowledgeable instructor, or for recreational dives. I will definitely book with Freddy again!! Thank you Mestizo!
Vanessa Fairey
Ottawa, ON Canada - Tuesday, June 14, 2011 at 07:40:51 (PDT)
---

My husband and I used Mestizo divers to get our open water certification during our honeymoon to Cozumel. I read a lot of great reviews about Mestizo which is why we chose to use them. We are very happy that we did! Freddy is an awesome instructor.....very patient and professional. He will work with you over and over until you get it right,and will not force you to do anything you are not ready to do. He is not there just to make money...he truly cares and has a passion for diving. We lucked up and got Freddy and Julio all to ourself! It was an amazing four days of diving and we learned a lot. My husband was a bit nervous at first and Freddy was very patient with him and helped him to build his confidence level. By the end of our training he was confident and much more relaxed and really enjoyed our last two dives. Two days after we were certified we went to Chankanaab park to do some snorkeling and enjoy a day at the beach. While there we found out that we could go diving so we did. Because of all we leaned from Freddy we both did very well and my husband was very relaxed and very confident in the skills Freddy taught us. We both HIGHLY recommend Mestizo Divers. We cannot wait to go back and do some diving with Freddy and Julio. If you are looking to become certified or just trying to find someone to take you diving,look no further....I promise you will be very pleased with Mestizo Divers.
Sherry and Aymar Dore
Luling, La USA - Thursday, May 26, 2011 at 18:11:19 (PDT)
---

With over 100 dive operators on Cozumel it can be hard to choose the right one and we all know the dive operator can be the difference between a good dive experience and a great dive experience. I recently took my advanced dive course with Mestizo divers and they have exceeded my expectations of what I was looking for. Freddy is one of the nicest people I have met in all of my travels. His motto of being a friend of all customers is so true to his personality. For a native of Cozumel his command of the English language is superior. His knowledge of the waters and attentiveness to teaching was by far the best. Freddy and his crew of the Mestizo are an A+ operation and you will not be disappointed. I was staying off Island in Playa Del Carmen and took the ferry to Cozumel. A short 2min. walk to the next pier and the Mestizo boat and crew were waiting for me. I can't say enough about how happy I was to hook up with Mestizo. Thanks again for a great experience.
Gary Allen
Wolfeboro, NH USA - Thursday, May 19, 2011 at 04:46:46 (PDT)
---

I just came back from Cozumel and three days diving with Mestizo divers. I could not have had a better experience diving or dove with a better guide then Freddy Contreras. Let me start by saying I am a new diver who was recently certified in New York, so of course I was a little nervous as this was my first real diving adventure. I did a lot of research online and the personal touch Freddy gave appealed to me. He came to our hotel the night before our first dive and met with me and my girlfriend. He accessed our skill level and asked us our interests. He went over safety issues and explained the dives and the water to us. Freddy and Julio picked us up the next morning at our dock, made us feel comfortable. His boat is immaculate and the BCD"s and regulators we rented from him fit perfect. He started us with an easy dive about 25ft and we just had an awesome dive, that was easy for us. It set the tone for the rest of the week which culminated with Santa Rosa Wall and my first swim throughs. Freddy is a real professional and more than just a guide. I learned history of the Mayan people, ecologic systems of the reefs, and conservation of the waters. I am very picky and if Mestizo wasn't great I would not post anything. I am so glad I did not choose a dive shop that puts 10-15 people in the water at once. That does not look like fun. Everything about Mestizo was great. If you use them and don't have a great time- I will refund your money back.(if you can find me). Trust me you wont go wrong with Mestizo.
Chris Calabrese
New York, NY USA - Friday, May 13, 2011 at 17:47:53 (PDT)
---

An absoultely PERFECT diving trip. I cannot be more grateful to Freddy C. and Mestizo. Freddy provided a highly personalized and professional diving experience and affords a wealth of knowledge in both diving and the Cozumel marine ecosystem. Always offering both education and entertainment, Freddy practices and encourages strict protection and sustainability of the marine environment and has an intimate understanding of island policies that influence that environment. In addition to an encyclopedic knowledge of marine fluora and fauna, Freddy was quickly able to identify simple constructive diving skill improvements for all individuals in our group that resulted in more relaxing, safe, and fun-filled dives. A master of dive masters. As if the dives themselves are not spectacular enough, Freddy plans each dive uniquely to maximize bottom time and enjoyment in particularly beautiful reaches of each reef complex. For instance, a dive on Plancar Reef led us through surreal tunnels, along encrusted walls and stunning landforms, then to shallow marine gardens before surfacing. Freddy mixed the dives so that we were able to experience a real diversity of both floura and fauna - from sharks and turtles, to giant sponges, fans, and soft corals. The boat captain (Julio) did an admiral job and knows exactly where to launch and follow dive progression. The fruit that Mestizo provided is the most delicious and succulent that you will find. Freddy's wife also provided us with a special treat of fresh guacamole (she has to wake at 5 am for this). This is a five star operation and I am definately planning another trip with Mestizo as soon as time allows. This time, I am bringing the entire family. My concern is that as Mestizo's reputation continues to grow, we will have to book a couple of years in advance. Esperamos que la próxima vez.
Hank Julian
Norris, Tn USA - Wednesday, April 13, 2011 at 05:02:15 (PDT)
---

My husband and I chose Mestizo Diver's for our fourth diving experience in Cozumel and our search for the best dive operator is finished. Freddy is knowledgeable about Cozumel and diving. We felt very safe with him both on the boat and in the water. It was a very comfortable dive experience. The boat is extremely clean and well organized. This is the first dive operation other than a live aboard that I have willingly used the toilet facilities! What a pleasure to be comfortable! Between dives Freddy provided fresh, dry towels, delicious fruit, cold water and interesting conversation. We are happy to have made a new friend in Cozumel and will look forward to a return visit soon.
Sherri and Chad Harrington
Pinckney, Mi USA - Saturday, March 12, 2011 at 04:51:50 (PST)
---

1\2\11-1\7\11 Once again, we had the thrill of diving with Freddy and the crew of Mestizo the first week of 2011. As usual, Freddy treated us like Family. Every dive I do with Freddy I learn so much. He is always concerned about helping you to become a better diver. His boat is always very clean and uncluttered and the fruit and homemade guacamole is so good and fresh. When our dive is done for the day and I arrive back at the pier I always feel like I've not just gone on a dive but I've had a wonderful experience because of the attention Freddy pays to his guests. You only have to dive with him once to understand the difference. If Freddy C. is not one of the best dive operations on the island of Cozumel then I will eat my BCD.
Lynn Buchanan
Martinsburg, Pa USA - Wednesday, January 12, 2011 at 04:30:40 (PST)
---

Our experience with Mestizo was absolutely first class. As I watched other divers leave port in glorified workboats loaded down with 10+ divers, I was very pleased that we had chosen Freddy for our Cozumel diving experience! He was knowledgeable and professional and his boat was the best diving boat we saw around the island. We had a great time. We will definitely come back to Cozumel and will definitely book with Mestizo divers again.
Patrick and Megan O'Brien
West Chester, OH USA - Sunday, January 02, 2011 at 17:51:02 (PST)
---

Levis Quebec Canada Hola Freddy, I want to thanks you again for the wonderfull days of diving you provide me. I was looking for an instructor that offer advanced course from boat. Other organisations offer the course with 2 shore dives, with you I've got 5 beautifull boats guided dives plus my certification. I qualify your operation 5 stars because of the convenience, quality of the dives and close attention to the divers and sea life on walls and reefs. Freddy pick up you with his boat at you hotel pier, offer refreshments on surface interval and take time to talk to his guest. As he said we are not customers, we are considered part of his family. Long life to Mestizo... Gracias for all, Asta la vista next spring. Visited Cozumel Nov 12th. Denis Lemieux active diver since 1975. Again Freddy is above all.
Denis Lemieux
Levis, Quebec Canada - Wednesday, November 24, 2010 at 18:23:40 (PST)
---

My wife and I have visited Cozumel for the last 5 years, and never SCUBA'd before. This year we were determined to learn, and decided based on the quality of Freddy's testimonials to approach him for a class. This November we took his open water PADI certification course, and loved it. While the skill portion may sound intimidating on paper, Freddy has an excellent natural teaching ability and years of experience. He never got flustered, upset, or critical of our skill development. By the end, because of his excellent instruction, we were completely confident in our skills. We are also both biologists by training - one MS and one PhD, and we found Freddy's knowledge of the local culture and marine biology absolutely top notch (and for those of you who might be concerned by it, Freddy is completely bilingual, with better command of English grammar than most Americans). The true test of Freddy's character came when we were faced with adversity. The weather was bad (the worst we'd seen in 5 years), with strong W/NW winds that forced the closure of the west-facing port to boat traffic and all watersports - including all dive boats. Freddy was able to adjust his instruction, and packed up all his equipment into his truck and took us to the east side of the island. On Chen Rio beach, he took us on two surf entrance dives where we were able to complete our certification process. Since the port was closed for 4 days, Freddy's extra effort assured that we were able to complete the requirements of the course without sacrificing the development of our mandated skills. On our next trip to Cozumel, we have no desire to seek out another dive boat - we will schedule our dives (and possibly some fishing) with Freddy. He treated us as friends, not customers, and put safety, skill development, and friendship before money. And as an addendum to my review: 1) I work on boats, and the Mestizo is safe and in excellent condition and the crew is very hard working and well trained, 2) The fruit Freddy has for! snacks is really AWESOME. We have shopped the local markets, and he still had the best pineapple and papaya I have ever tried, and 3) Freddy is a good man, and good people deserve to prosper, so I hope you choose him for your dive trips, even if it limits his availability for mine.
Noah Karberg
Nantucket , Masachussets USA - Tuesday, November 09, 2010 at 20:10:26 (PST)
---

4 friends and I recently made our first trip to Cozumel this August. We chose Mestizo Divers because of the online reputation and following they had acquired. I can say the 4 of us could not have been happier. After a bad dive experience on Hawaii on a cattle boat, we knew exactly what we wanted. Freddy, Carlos, and crew delivered the experience we desired. I urge all looking for a dive boat in Cozumel with experience and knowledge of the island and ocean to look no further. We have lovingly named Freddy Contreras, "The Mr. Miyagi of Diving." He cuts no corners and safety is always first. His nephew Carlos (Charlie) is a fish underwater. To watch Carlos effortlessly move through the water with his arms crossed all nonchalant is poetry in motion. The fruit provided between dives was delicious and straight from the island. However, the best thing I saw from Freddy was the constructive criticism offered after each dive. This is what helps make you a better diver if you are smart enough to listen.(Your a fool if you don't) I urge all looking for a first rate dive experience, and would like your money to support the local economy and families. To chose Mestizo Divers. Big thanks to Freddy and Crew! We will be back!
Raymond Proa
Fort Mohave, AZ USA - Sunday, September 12, 2010 at 18:08:57 (PDT)
---

My gratitude goes out to Freddy and his team. What an outstanding experience. I have been certified for a number of years and have previously been diving with other operators in Cozumel. Mestizo offers a first class experience. Freddy's attention to details and safety made for enjoyable dives like never before. My girlfriend received her certification days before our departure to Cozumel and Freddy helped make her first open water experience memorable. All of the rental equipment is top notch and in excellent condition. The snacks (fresh local fruits) Freddy provided between dives were delicious. I've been home for two days and I am looking forward to diving with Freddy and his team in the very near future. Freddy, my best wishes go out to you and your team. Best regards,
Steve Ives
Houston , Tx USA - Tuesday, August 03, 2010 at 14:32:25 (PDT)
---

My wife and I were vacationing in Cozumel, MX and I was looking for a scuba diving opportunity since my wife doesn't dive. As luck had it, I ended up joining Freddy Contreras and his crew on the Mestizo. He picked me up at the Cozumel Palace. Now I'm a relatively new diver with no buddy; but, I felt right at home with Freddy and the other divers. Everybody was into photography and I had my camera and I enjoyed a great time diving and taking pictures and videos of the beautiful reefs of Cozumel. By coincidence, I am half Chinese and half Swiss and Mestizo refers to the offspring of different cultures. So it was my lucky day indeed to have found Freddy. I highly recommend Mestizo for your diving pleasure. You will feel safe and sound while you enjoy the depths that Cozumel has to offer.
Dennie Mah
Willmington, De. USA - Thursday, July 08, 2010 at 05:30:37 (PDT)
---

I just returned from a day of diving with Freddy and his crew. The only problem was it was only 2 dives. We came into town on a Cruise Ship and Freddy and I corresponded via email for almost a month before our trip. His level of professionalism and attentiveness to safety was unmatched by any commercial boat i have ever used. Our arrival into port was late morning...like 11:00. It is well known that dive operators anywhere and everywhere have a morning trip and an afternoon trip if business is good. That being said, Freddy just ran one trip for the day...for us only. Even though we paid for the minimum of 4 spots, the price was more than fair. And the best part...we were a party of 2. 2 divers....3 crew. We didn't lift a finger. It was awesome...and I have not even mentioned the diving yet. I have to mention we were in Cayman the day before on a trip booked through the Cruise Ship. What a waste of time and money. I love diving, and any day in the ocean is a good day, but it was a joke. Very mediocre dive site, divemasters who talked too much and a bottom time of about 25 minutes...after all the talk. And EXPENSIVE!!! Totally different experience with the Mestizo operation. Freddy quickly recognized our skill level and our attention to safety and just let us dive. Chose Santa Rosa wall for our first dive and it was spectacular. God, not Freddy gets the credit for that though. It was awesome. It was a day I will never forget. We are already looking to go back. I would without hesitation use Freddy for all of my diving in Cozumel. The farthest thing from a cattle boat. The most personalized commercial dive operation I have ever used. Looking forward to many future trips. I apologize for the length of this review, but I think if you are booking a trip out of the country, investing time, money, and your life in an operation you are not familiar with, it is important to know that you are making the right choice. Stop your search now for a Cozumel Dive Operation!...email Freddy n! ow.
Scott Pluskis
Coconut view, Fla USA - Thursday, June 17, 2010 at 05:34:00 (PDT)
---

After much research preparing for our 1st. dive following our certification, we chose Mestizo. What a wise choice!! Freddie and Charlie not only provided us with a wonderful experience but made sure our dives were safe for our level of experience. Both Freddie and Charlie kept a close, protective eye on us the entire dive, without making us feel like we were holding their hands. They made US responsible for our dives while keeping a watchful eye on us. We learned so much from Freddie about the reefs, breathing techniques, and he even threw in a few history lessons. But most importantly, conservation of the sealife we encounter while diving. We are GUESTS of the reef. We will carry Freddies respect for the creatures and plantlife whenever we venture below the surface. When we return to the beautiful waters of Cozumel, and we will.. we will dive with Mestizo and her crew. They call you Family, and they treat you like family. Thank you Freddie and the crew of Mestizo for the wonderful experiences we had with you. Happy trails.....till we meet again. Lynn and Doug Buchanan P.S. The luminescence on our night dive was a wonderful thing to see.
Lynn Buchanan
Martinsburg, Pa USA - Thursday, May 06, 2010 at 05:41:11 (PDT)
---

Just spent a week diving with Freddy and it was great. Freddy has lived on Cozumel most of his life and has a wealth of knowledge about the island as well as the dive sites. He only takes small groups, up to six. Almost every dive it seemed as though we were the only group on the site. Even took us to a couple of sites not normally dived by the larger outfits. Both were awesome! Freddy and his staff could not have been nicer. They really wanted to make sure we had a great time while with them. This was are first time with Freddy and we will be back again soon. Thanks again Freddy, hope to see you again soon. John & Monique
John & Monique Loving
Mechanicsville, Va USA - Sunday, April 11, 2010 at 18:15:06 (PDT)
---

My wife and I just spent a week in Cozumel and decided to try scuba diving. We took a basic course with Freddy and he is an excellent instructor. He also has safety as a primary focus and while he is very fun and friendly he also is very much in control at all times. He explains the physics or fundamentals in a way that helped me remember things because I understood them, not just memorizing rules. We found it to be a positive that the basic course was taken in shallow water instead of a confined area like a pool. Made the testing a little more real and once we were ready to go we could just start scubaing. Once you pass the beginner course you area allowed to scuba dive with an instructor for the next 14 days in depths no greater than 40 feet. We decided to do this one afternoon with Mestizo divers based on our great first experience. This dive was also wonderful. Freddy and Carlos do a great job of guiding you through the reef and pointing out extra neat thi! ngs that are around. Between the two dives we saw a school of several thousand fish which we swam among, a five foot barracuda, 2 large eagle rays, a moray eel, a sea turtle, lots of large lobsters and much more. Highly recommend Freddy and his crew Carlos and Enrique for diving instruction or just diving.
David Radloff
Hutchinson, Mn USA - Wednesday, March 10, 2010 at 20:15:10 (PST)
---

Well I finally did it,I got certified by Freddie on a trip especially for this purpose ! We have a trip planned to Cuba in March and wanting to take my open water course ,we booked a trip to Cozumel and contacted Freddie! I met Freddie 3 years ago on MY first trip to Cozumel with my husband Randy,whom had told me all about Freddie over the years.He was everything and more,Freddie met us at our resort the first evening we arrived and his charm and friendly manner was awesome ! Now Randy has tried to get me to take the course over the past 15 years with no luck! But getting to know Freddie and Enrique over our 2 week stay in Cozumel, my comfort level grew and for the first time I really wanted to give this a try! We went back to Cozumel the next year,contacted Freddie for me to take the course but I had an ear infection so was unable to go ahead with the course,Freddie never once attemped to push me to do it anyway, as some may have . YOUR safety and well-being are Fredd! ie and Mestizo"s Diving top priority and not the dollar!!We went to Cozumel in February and with Freddie and Enrique's guidance and encouragment,I received my Open Water Certificate!! I have to Thank Freddie and Enrique for all the encouragement they gave me.Enrique was always there on the boat with a big smile and encouraging words whenever I got back on the boat,he was there to help with putting on the BCD,he is awesome!Thank-you Freddie for your help and encouragement,you made learning fun and enjoyable and NOT once did I think I couldn't do it and Never felt unsafe!
Heather Smith
Estevan, Saskatchewan Canada - Monday, February 22, 2010 at 08:41:21 (PST)
---

I first met Freddy in the early 1990s when he was my instuctor for my Divemaster Course as well as a couple of specialty courses. What struck me most about Freddy at that time was his commitment to safety and his seemingly endless patience. He will never sacrifice his values in the name of making a buck of just getting it done, he will always take the high road. Freddy considers his divers to be family and treats them as such. I have always felt Freddy was more friend than Dive Instructor. My wife and I began going back to Cozumel 3 years ago after several years of going to "other" vacation destinations. I immediately looked up Freddy for my diving, and found out that he was now in business with a new partner. I booked some diving and found that to my great pleasure Freddy and Enrique working together show the same level of excelence that Freddy showed me years earlier. Their boat "Mestizo" is a very comfortable platform for diving and is well equiped. Smaller groups of divers are much more enjoyable than what you get on the big "cattle" boats. My wife Heather also began to notice the level of professionalism at Mestizo Divers. Noticed enough that she felt confident enough to become an Open Water Diver herself. Now I am not the kind of person to hand Heather over to just anyone, but knowing Freddy and his values made me feel very good about Heather training with Mestizo. Anyway, to make a long story short, Heather and I went to Cozumel again in February 2010 and she took her course. She was treated extremely well by Freddy and Enrique for the duration of our stay and I am happy to say I now have full time dive buddy. Finally I would once again like to extend a heartfelt THANK YOU to Enrique and Freddy for being a major part of a wonderful vacation in Cozumel. I have no doubt in my mind that Mestizo Divers will be my first stop in Cozumel next year.
Randy Smith
Estevan, Saskatchewan Canada - Sunday, February 14, 2010 at 08:22:26 (PST)
---

I am a 57 year old man, in moderately good condition and not the quickest learner. I live in Alaska, so I don't spend much time in the ocean. Freddy taught me everything I needed to become a certified open water diver in only four days. Two more days were spent scuba diving with Freddy in what can only be described as breathtaking and fascinating natural aquatic beauty. OMG!! Don't have any reservations about Mestizo Divers or Cozumel. "I'll be back".
Wilfred Fernandez
Wasilla, AK USA - Saturday, January 23, 2010 at 17:08:52 (PST)
---

My wife and I spent a week diving with Freddy of Mestizo Divers. We've been diving for about 18 years now and have traveled to many different destinations and dove with many different dive operations throughout the Caribbean plus other sites such as Galapagos, PNG and Cocoas Island. I am happy to say that Freddy and Mestizo Divers ranks right up near the top of the list for the overall quality of dive experience that he provided. His boat has all of the amenities (marine head) and safety necessities that make for a comfortable pleasureable trip back and forth to the dive sights. Being locally raised on Cozumel he has historical knowledge of the island and reefs that adds an extra bit of interest to the trip. He has good safety/dive protocols and briefings. He keeps the size of group down to a max of 6 divers so you never feel you are a numbered steer on a large cattle boat. You are also allowed the freedom to dive your computer instead of having to surface afte! r a predetermined amount of time. Given that neither my wife or I speak Spanish it was a definite plus that Freddy has an excellent command of the English language. We've been to Cozumel a number of times but this has been the first time with Mestizo. However, it certainly won't be the last. Two thumbs up and a high recommendation.
Gord & Meryle lehn
Cochrane, alberta Canada - Tuesday, December 29, 2009 at 13:26:00 (PST)
---

My husband and I went diving with Freddy last week for three incredible days. It was our first time diving in Cozumel and we were anxious to see the amazing creatures and beautiful reef. Freddy is very knowledgeable about the reefs and the history of Cozumel. He picked us up every morning at our hotel pier and we were at the dive site within minutes. Before every dive, he would tell us the local folklore about the history of the reefs and why they have such interesting names. He is a wonderful, safe diver and great at teaching relaxed, calm diving techniques which allowed us to see some amazing animals which otherwise may have hid. We were so impressed with his diving techniques that we decided to get advance open water certified with him during the trip. During each dive, he would point out all different types of animals, fish, lobsters, sharks, turtles, sponges and different types of coral. After each dive, he would give us exotic fruits from the island to try, inc! luding two types of cactus fruit, while we went to the next dive site. Freddy has made us better divers who are more conscientious of our dive surroundings. It was a magical week and I would recommend Mestizo divers for anyone, no matter their skill level. In fact, we have a 6 yr old and when she is ready to do her open water certification we will take her to Freddy!
Vandra Livingston-Tallis
Tucson, Arizona USA - Friday, September 11, 2009 at 04:41:43 (PDT)
---

Issaquah, WA, USA body: I can't really say if Freddy is the BEST dive instructor in Cozumel since I only went diving with him and can't compare, BUT I can compare him to other dive masters I've been with and he is by far one of the best. He is a master craftsman. He has decades of experience. He is a great teacher. Very conscientious of the way you should dive, the dive site, the reefs of Cozumel and your safety. I highly recommend him, he takes out small groups, you get individual attention and he takes good care of you. I am so glad I got a chance to meet and dive wit him. I'll be back for sure. Mark Griffith
Mark Griffith
Issaqua, WA USA - Monday, June 22, 2009 at 15:58:19 (PDT)
---

Well my experiences with Freddy started five years ago. My parents, my sister, and I were in Cozumel for vacation when my parents decided to get certified through Freddy. At the current time he was working for Aqua Safari. As my parent came to an end in their open water certification course, Freddy offered my sister and I an intro dive. He was so friendly and made my sister and I's scuba experience so enjoyable. From that point on, I was captivated at the vast variety of underwater life. After our experience Freddy offered his personal contact number to stay in touch, but in the four years following we had lost his number and had no way of contacting him. Since then, I have been certified while back in the states and my parents finally found his number. Freddy's friendship over money way of business sealed the deal that he would be the one that would take us diving this year. Although it had been five years since, our friendship with Freddy, has re-kindled and we had a! n amazing time diving this year. His comforting and easy going way of life made my parent's and I's diving experience so enjoyable. We will definitely continue diving with Freddy and Mestizo Divers!
Derek Woelfel
New Braunsfels, Tx USA - Saturday, August 09, 2008 at 19:31:13 (PDT)
---

Well, where do i start? Freddy, i would like to thank you and Enrique for the Top grade service provided from 15/6/2008 to 27/6/2008. From being patient with us while we completed our Padi Course and for taking us on some unforgetable Dives. From Sharks to Starfish we saw an amazing aray of sealife, turtles, stingrays, Huge Lobsters, Parrot Fish, Baracuda's, Cracking Coral formations and beautiful Caverns and Caves. As we watched A shoal of sardines on the C52 Wreck we were treated to a feeding freenzy by large groupers. A truly spectacular site. But for me, my favourite moment was when a large hawkbill Turtle just cruised passed my eyeline no more than 1ft away and looked rite into my eyes. I talked to alot of divers while in Cozumel, some of them never even spotted a turtle on 10 dives! I ended up taking a guy and girl from our hotel with us to Get the Mistizo experience! On their first dive, they saw turtles and all sorts, truely amazing and they were stuck for words! There response was the same as mine, there is no better dive master 'ANYWHERE' in Mexico. His Experience and knowledge was second to none! Between each dive you get refreshments and fresh fruit, no other diver i spoke to even got offered water! These are the touches that set Mestizo divers apart from the rest. So well done Freddy and Captain Enrigue who followed our bubbles everywhere. Training and experiences i will surely never forget, See you next year Amigo's! P.S, The fishing charter we also took with Mestizo was Fruitful, a 25kg white Marlin and a 30kg Sail Fish. Hopefully Freddy will put the Pictures up soon!
Alan Palmer
London - Monday, July 14, 2008 at 11:36:25 (PDT)
---

Hi Freddy, Just want to say gracias for a fabulous week of diving! You are so not like the typical dive operator. No crowds, no fuss - I love it! I will definitely recommend you to everyone I know and even divers I don't know. Next time I'm back in Cozumel, I'll be contacting you to take me diving. Gracias, Hillary
Hillary Bloom
Iselin, NJ USA - Wednesday, March 12, 2008 at 13:00:18 (PDT)
---

But would have liked to have told you what a fantastic time we had!!!!! And your friends are super and very nice to dive with. It would be great to do that as a group again some day. I have to tell you......................when we went with that other dive center it wasn't a very good time. In fact it seemed like work and the fumes from the boat made me sick and it was just kinda like.................well, put it this way............when we were done diving that day with those guys.....I thought that maybe I made a mistake and that diving wasn't as fun as I thought it would be and maybe it isn't what I want to do more often. I was sick, tired and felt just like a "number" with those guys. They were nice, but they weren't attentive, not very much anyway. So I was a little held back when we met with you and your friends to dive. But........................thank you Lord, that we did meet up with you!!! I felt like we came home. As soon as I stepped into your boat, I felt safe and comfortable. It is crazy the difference it made. And we know with you.......we are always safe. Like a father watching his children, we know you are ALWAYS watching, and ready to encourage and/or correct in that gentle way that you have. We never feel stupid asking you things and you always can explain what we need to know. And still keep a sense of humor about things to. Your experience can be seen on your face and in your eyes and it gives a sense of relax......life is good. When we were done diving that day.......I had such a good time that I had tears in my eyes because I didn't want to go home yet. A HUGE change from the previous diving that we did. Bryon felt the same way. We both knew.................. We WILL be back again and again and again. And you can bet.........we will be calling YOU! We plan to spread the word about how great the diving was with you and your boat. WE are hoping to bring the boys back this summer so that you can take them out and get them going again. Dustin thinks he wants to train under you to become an instructor in the future and open a "Dive shop" in the Florida Keys some year. We told him one step at a time and if he stays interested and serious then we will arrange it in the future. He has a lot of maturing to do first. Ha Ha. Well, gotta go, but again .....THANK YOU for such a fantastic time and for saving our interest in diving!!!!!!
Heidi and Bryon
Valley View, Texas USA - Wednesday, February 20, 2008 at 22:49:42 (PST)
---

Hola Freddie, We have arrived back home in Canada and are wishing we had never left sunny Cozumel. We just want to thank you for the wonderful week of diving. You seem to have a knack for finding the best reefs with plentiful sealife. Eagle rays, sharks, green moray eels, turtles and all the colourful reef fish. Could it get any better? We also enjoyed tasting new and exotic fruits and help with our rusty Spanish. Please thank Enrique for all his assistance with our gear. We are already looking forward to our next trip. See you soon amigo!
Louise Coppen
Red Lake, Ontario Canada - Monday, February 11, 2008 at 08:07:34 (PST)
---

In 1994 I brought my OW referral letter to Cozumel in order to complete my Open Water certification. Freddie taught me and a family of four from Denver. Not only was I impressed with Freddie's instruction, but by the professionalism and tact he showed when two of the four in the family were obviously not ready to be "signed-off". Rather than embarrass the two, he commented that since they would be diving as a family, and that two were more ready than the others, he wouldn't sign any of their cards until they had another half-day lesson, WHICH HE WOULDN'T CHARGE THEM FOR! (He did certify me that day). Later in the week, I talked to the teenagers in the family and they finally did get certified after their next lesson, but only after hiring Freddie to be their divemaster/guide for their first boat dive. Freddie not only demonstrated his professionalism and tact in handling a delicate situation, he demonstrated the utmost integrity. Freddie may not remember me, but I suspect he might remember the situation. I now have logged over 100 dives - most in Cozumel - and definitely can say Freddie started me out well trained and more capable and confident than most beginning divers.
Steve Dains
Lathrup Village, MI USA - Thursday, January 17, 2008 at 13:18:51 (PST)
---

I have known Freddie for over 10 years and had the privilege of having him as my first Open Water Instructor. Through his inspiration I have continued to advance my skills to Rescue Diver, Master Diver & Dive Master& Asst. Instructor. When you meet Freddie, you will have acquired a true and loyal friend. I am very happy to see he has ventured out on his own, away from the cattle boats cartel, and is continuing to train divers in a very sincere and personal way.
Steve Gibson
Woodbury, Minnesota USA - Friday, January 11, 2008 at 13:13:55 (PST)
---

I have known Freddy Contreras since 1994 when I did my Open Water course with him, and have since also done my Advanced (1995) and Divemaster (2004) qualifications with him, and he has become a good friend. Freddy is an excellent instructor and diver, always ensuring the safest dive environment. He is also one of the best dive guides in Cozumel, and knows exactly where to look for all the really interesting stuff! He is also a very nice and caring person. Good luck with your new business venture and Mestizo Divers, Freddy! Tu amigo,
Tony Randell
Rome, Italy - Thursday, November 01, 2007 at 13:13:10 (PDT)
---

Three years ago I did a resort course with Freddy and he opened my eyes to the amazing underwater world. He is a truly wonderful teacher. Although I was very nervous, Freddy's warm, calm and highly professional manner inspired me with confidence from the start. I couldn't wait to go home and do my training so that I could return to Cozumel and do my certification dives with him. This summer my husband I did our Advanced Open Water training with Freddy on his splendid new boat & what an amazing experience. We were treated like royalty by his crew and had a chance to visit some dive sites that were definitely off the beaten track. Freddy's insistence on buoyancy control and breathing technique have helped me acquire good diving skills. I tell everyone that he is the best and the only dive instructor I would ever consider. I'm looking forward to doing my Rescue Diver training with him from the Mestizo next time in Cozumel. I cannot recommend Freddy, his boat and his crew highly enough.
Pam Ireland
Montreal, Quebec Canada - Monday, October 22, 2007 at 07:37:15 (PDT)
---

I did my PADI AOW certification with Freddy in 1992 while on vacation in Cozumel. I learned more about diving skills in that class than I did in my basic open water training. So I came back to Cozumel to do several specialty certifications and finally my Divemaster. I know that I would not have the diving skills I have perfected today had it not been for Freddy. As a professional underwater photographer I carry a 12# camera on every dive, yet people always compliment me on my perfect buoyancy skills and continued awareness of what is going on around me. When I teach underwater photography I also teach this very important skill. For the past 12 years I have traveled around the world and visited many dive destinations. I worked as a Divemaster in Southern California for five years and worked with many PADI instructors, but have NEVER witnessed an instructor who was so meticulous about teaching the important details students NEED to know and understand. Freddy has a way of making the whole concept easy to understand and easy to remember. He is in my opinion the BEST scuba instructor I have ever known. I can't wait to make my next trip to Cozumel (my 30th visit to the island) in March so I can dive on Freddy's new boat. Needless to say I highly recommend Freddy, Enrique and Mestizo Divers.
Bonnie Pelnar
Irvine, CA USA - Thursday, October 18, 2007 at 10:30:01 (PDT)
---

I tell people all the time how happy I am that you were my Divemaster Instructor. When Loop and I were diving with our friends in Fiji, we received many compliments from the Divemasters and instructors regarding our diving skills. They were calling us "the pros" by the end of our stay. But that was not the best part. The best part was that I felt so confident and calm in the water. I am not the same diver I was when I came to you last December.
Terese Britt