MESTIZO DIVERS offers you experience and expertise that 18 years of teaching full time, and hundreds of happy divers spread all over the planet have benefited from.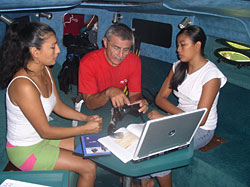 Our instructor FREDDY CONTRERAS can introduce you to scuba diving with a resort or introductory course and if so you choose, certify and guide you to Open water diver, advanced, rescue diver and divemaster, passing through many scuba dive specialties like deep diver, enriched air diver, multilevel diver, drift diver, night diver, underwater naturalist, underwater navigator, search and recovery, equipment specialist, peak performance buoyancy, etc.
Teaching is a passion and we realize that well trained divers, have little or no impact to the fragile ecosystems of the reefs. CRITICAL TO ALL OF US!

When dive shops in Cozumel offer you scuba certification classes, they normally teach you in front of your hotel or the dive shop, from shore. So you don't see the reefs until you are done. This might take your entire vacation! WE offer you the certification course using the MESTIZO as your classroom. That gives us access to all the reefs that Cozumel has to offer, which means you will learn and visit the reefs at the same time. BIG DIFFERENCE! So come and get certified with us. Teaching scuba divers is our specialty.
---
SCUBA DIVING COURSES
All prices subject to 16% IVA tax


RESORT COURSE
Designed for people who have never scuba dived before. A must-do in Cozumel! This is an introductory course that takes half a day. Easy and safe. No certification involved.
Includes:
class and a scuba dive to 40 feet maximum
a boat trip to the reef and a one tank dive
one instructor for every four participants
all the scuba equipment.
Does not include:
wetsuits (water temperature us usually 80 degrees F)
Price $ 100 USD per person
Subsequent resorts $ 65 USD per person
This dive counts money wise and time wise for the full certification course. You want to get certified after the resort? Just pay the balance and continue!
---
OPEN WATER CERTIFICATION COURSE
This is the course that will make you a certified diver for the rest of your life! Certification obtained with this course does not expire and is internationally recognized worldwide.
Includes:
four days of diving in different sites while training (the depths will be dictated by the course standards however)
certification fees and course materials
four half days of classes and videos
scuba equipment, except basic equipment (fins, mask and snorkel)
Price $ 395 USD per person
---
REFRESHER COURSE OR SCUBA REVIEW
This is a wise thing to do if you have been out of the water and away from scuba for a year or more. It is a half day thing that includes a review of the theory and the most useful skills like buoyancy check, sharing air, mask clearing, etc. This course updates your certification card!
Includes:
one tank dive by boat
all scuba equipment, except the basic (fins, mask and snorkel)
Price $ 95 USD per person
---
REFERRAL DIVER PROGRAM
You did all your classroom work and exams during the cold winter at home and all your confined water practice in a swimming pool. And now you want to go to the warm, crystal clear waters of Cozumel to finish your training? Welcome! We are waiting for you!
Make sure you bring your referral letter from your original dive shop or instructor and your log book signed by them and we will help you finish your training in the warm waters of this tropical island.
Includes:
certification fees
scuba equipment, except the basic (fins, mask and snorkel)
two days of two tank dives by boat to different reefs (depths will be dictated by the standards of the course)
Price $ 290 USD per person
---
ADVANCED OPEN WATER DIVER
You want to upgrade your scuba skills to the next level in a fun and interesting way. Fantastic! This is the way, enjoy as you progress in being a better scuba diver. Get introduced to five different specialties and experience other abilities.
Includes:
certification fees
course materials
two days of two tank dives by boat
scuba equipment, except the basic (fins, mask and snorkel)
Price $ 310 USD per person
---
RESCUE DIVER COURSE
Feeling the need to help is normal, but not good enough. Having the ability and the training to help is what you accomplish with this course...and you never know when you will need it. This is a must for serious scuba divers that love the sport and the friends that share their passion.
Includes:
certification fees and course materials
3 days two tank dives
Price $ 360 USD per person
---
DIVEMASTER COURSE
Now you have more than 60 dives of experience plus you already are a certified rescue diver and your medic first aid certification is current. You are ready to enter the professional fields in scuba diving! This is a very challenging and rewarding level of certification. It will qualify you to guide and supervise certified divers if so you choose and teach some courses as well as assist certified instructors with students.
Includes:
course materials
seven two or more tank dives a day
Price is $ 850 USD per person
For scheduling any of the SPECIALTY COURSES listed above and or for MASTER SCUBA DIVER CERTIFICATION and for the ASSISTANT INSTRUCTOR CERTIFICATION please ask. All prices subject to 16% IVA tax.