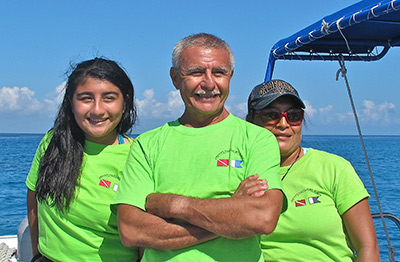 FREDDY CONTRERAS, a native of the Yucatan, grew up in Cozumel. He was a commercial diver for PEMEX, the Mexican oil company, for four years in the Gulf of Mexico and has a degree in Hotel Management and Administration. He has been diving since he was eleven years old, and has worked as a Divemaster and Instructor for several years for very reputable dive operations in Cozumel.
Freddy is PADI certified as an Instructor. He has been instructing scuba diving full time since 1989 and is currently an IDC Staff instructor. Awarded the Certificate of Merit by PADI several times, he has trained people from all over the world, including Hollywood movie star Liev Schrieber.
We are not a big operation. We want to be personal, attentive to detail and helpful. We don't want to see numbers, we want to see friends.
These days the term "exclusive" is used a lot in advertising...yet hard to find.
Exclusiveness is our goal.