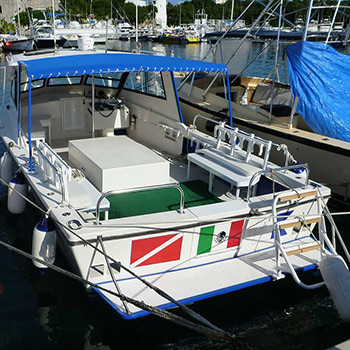 Always looking for providing you with the most comfortable experience, we are glad to offer you our second boat. This is an Island Hopper boat, very famous for it's stability and solid structure, designed to take up to 18 divers (with us, intended to take six!). 
Built in year 2000, 30 ft long and 12 feet wide, has a Caterpillar 3208 engine with 435Hp able to develop 24 knots at 2600 rpm. Provided with a marine toilette, cushion seats and all the amenities we are famous for.
A 27' Baha model 1989 kept in pristine shape. It has a GM 7.4 L, 320HP inboard engine.
This means we can take you to Cozumel's best reefs in about 40 minutes-like a panga speed boat with two outboard engines-but with the comfort of a yacht.
All our seats are cushioned and we have a marine toilet for your convenience. There is a fresh water shower to rinse off when you are done diving, fluffy clean towels for everybody, and a cabin when you can change, equipped with video and audio facilities for scuba lessons.
We have oxygen and first aid equipment, of course, just in case.
We are not a big operation. We want to be personal, attentive to detail and helpful.
We don't want to see numbers, we want to see friends.